Post by Admin on Mar 23, 2021 4:43:52 GMT
John embracing Anguilla challenge
...faces Latapy's Barbados on March 30
trinidadexpress.com/sports/local/john-embracing-anguilla-challenge/article_ac81dc4e-8b6a-11eb-95d8-6be6571b9708.html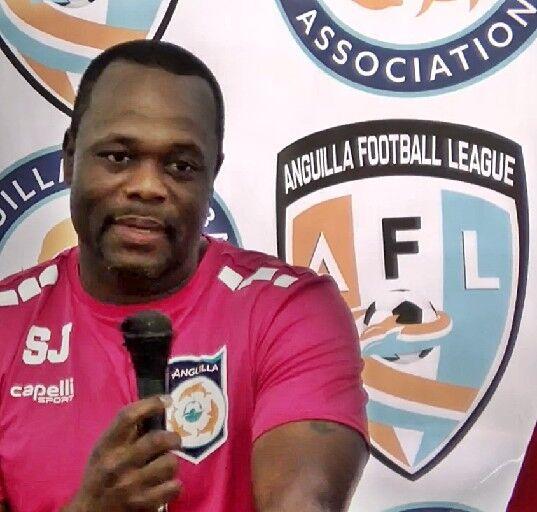 FORMER T&t STRIKER: Stern John at an Anguilla Football Association press conference before his team departed for the Dominican Republic for a World Cup qualifier.
Stern John served as men's national team assistant-coach to Dennis Lawrence during Trinidad and Tobago's last World Cup qualifying campaign and was also T&T Boys' Under-17 coach before taking over the reins to coach the Anguilla men's national team.
John will likely struggle to get Anguilla out of a group that includes Panama, Dominican republic, Dominica and Barbados. The former T&T striker faces a tough task first up, playing away to the Dominican Republic before going to Barbados on March 30 to face that nation's team, ironically led by Russell Latapy, his former teammate and member of the T&T Soca Warriors that played in the 2006 World Cup in Germany.
Ranked 209 in the world, Anguilla have been on the wrong end of wide margin losses, including a 15-0 to T&T and 10-0 to Guatemala two years ago.
Nicaragua also whipped them 6-0 in 2018 and Guyana 7-0 in 2016, while in 2014 Caribbean and Central American Games qualifying they lost 10-0 to the Dominican Republic. But they have also had a close 3-2 home defeat to Puerto Rico and 1-1 draw with Bahamas in 2019 CONCACAF Nations League qualifying.
John says the aim is to make Anguilla more competitive in matches. "We know that we have a couple of big games coming up. We just want to go and compete," John said. "I told the guys those results we used to get before, we are not having that anymore. At least we go on the field and we compete."
At the team's final media conference last Wednesday before leaving for the Dominican Republic, John said he embraces the challenge to build a better Anguillan team. "For me its a privilege and an honour coaching the island (Anguilla) team. When I got the job — especially in Trinidad and all around the world as well — everyone asked me why I wanted to come and coach the last team in the FIFA rankings."
He continued: "When I came to the island, everyone was telling me your biggest challenge is to get the players to come to training and so far since I have been here, on a bad day we had 15 players coming to training. So, that is a change as well."
"We know the problems we have here. It is not a professional environment. The guys are not professionals. I know things can better and it will get better, but everything is process," said John, adding, "I think the guys are buying what we are selling. I think we are trying to change the football culture. I think we have to have that mindset that we want to go and compete against the rest of the world."
John thanked his new employers for their support, having met his request for a Venezuelan physiotherapist, as well as advanced tracking equipment to monitor his players' performance.
He is also thrilled with the standard of the FIFA-built Anguilla Home of Football. "Our staff has been fantastic as well," John said. "This Home of Football is just amazing. The kind of facilities we have here for a small country is really great. I think it is brilliant."