Post by Admin on Aug 17, 2018 19:36:56 GMT
Viv Richards told me, 'Get your a** up, you are not being paid to sleep', reveals Brian Lara on early daysBrian Lara talks about his first time as part of the West Indies dressing room, the presence of the team in his father's funeral and how intimidated he was by Sir Vivian Richards in his Cowdrey lecture.
By: Express News Service | Updated: September 6, 2017 9:55:22 am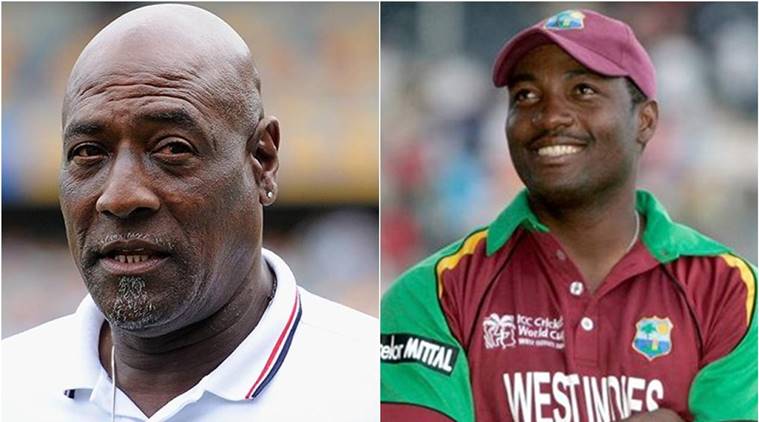 Brian Lara says that the spot where he used sit while playing for Trinidad was Sir Viv Richards' place in the West Indies dressing room.
Brian Lara reveals he was embarrassed by behaviour of West Indian greatsBrian Lara reveals he was embarrassed by behaviour of West Indian greats
Watching a West Indies side indulge in time-wasting was the most embarrassing moment for me, says Brian LaraWatching a West Indies side indulge in time-wasting was the most embarrassing moment for me, says Brian Lara
I remember the first time I was a West Indian cricketer. It was 1989. The West Indies was coming to Trinidad for the next Test against India so I didn't have to go anywhere. I went to the Oval an hour before the team arrived. I had two of my brothers there. We went on to the field, and they started giving me a little bit of throw-downs. You have to understand when the bus with the West Indies team pulled up, you're talking about my idols. Viv Richards walked off the bus. Then Gordon Greenidge, Desmond Haynes, the late Malcolm Marshall, Jeffrey Dujon and Augustine Logie walked off the bus. I froze. I was out there, a little kid taking a knock. And I didn't know what to do. I didn't know whether to head towards the dressing-room or to head towards the bus. As the team went into the dressing-room, I thought I'll try to join them and say hello. The cricket bag that I put down in the dressing-room came flying through the air in front of me. I picked it up and walked inside. To my amazement, the same place that I sat for Trinidad, was the same place Sir Vivian Richards sat for the West Indies team. So I spent the first five days of my international career in the bathroom, ducking the players as they came out of the shower. I had to move my bag left, move it right and that's what I did. That first Test match I wasn't selected in the playing XI. My dad came to the picket fence and asked me for few more tickets. I went to Clive Lloyd the manager and he gave me some tickets. He was off and I went back to the hotel.
At the hotel, I had a roommate, and I'm not going to call his name, and he said, "Brian, can I have some space?" I said, "No problem." I knew what that meant. My little interaction at 19 with the opposite sex, I knew it was going to last a few minutes. So a few minutes later I called the room and he said, "Don't call. I'll call you." At 11 pm, the curfew was 12, I called again. He said, "I'm not ready yet." I said, "You're not ready yet, or you're not finished yet?" He said, "Both." I said, "Listen, I'm going to go home and see you early in the morning. Is that fine?" He was of course very happy with that. I went home. Oh sorry, I didn't go home. Unfortunately, my dad got a heart attack that night and passed away.
I was by my girlfriend. So it took my brothers some time to find me. Clive Lloyd thought I was in bed, but I was not in bed. My roommate had no explanation and blamed everything on me.
Back in those days, Test cricket still had a rest day, and on that rest day my family decided to have my father's burial and ceremony. And it could not have been the most amazing time for a man who gave his life to his last son when the entire West Indies team came to that little village in Santa Cruz called Cantaro, his son in a blazer, Sir Vivian Richards in a blazer and I remember that moment so vividly. Everyone just left my father's casket, they walked towards the West Indies cricket team looking for autographs.
Of course on many occasions the senior players took advantage of me and I remember right here at Lord's during the 1991 series, rain was falling and I made sure everybody had what they wanted and the rain just continued falling. And I thought that it was an opportunity for me to take a little nap.
I had my first MRI machine experience, you know something is too close to you and I opened my eyes and in front of me was Sir Vivian Richards, staring me in the eyes, his piercing look and big nose and he looked at me and said "Did you have a late night?" I was nervous by then, heart beating and I said, "No I didn't. I just felt that everyone was okay and they didn't need nothing, so I thought I will sleep." He looked at me, and if he was any close the nose would have been resting on my cheeks. He said, 'Listen, get your a** up, and go outside and watch the rain. You are not being paid to sleep.' And I went outside on the balcony at Lord's and I watched the rain. After an hour later, it was still drizzling when Lance Gibbs, the manager, came and he said, 'Brian, I have a horse running at Doncaster, let's go along the betting shop, and we have a winner'. So I got up and went inside, only to run into Sir Viv. Bareback, a towel around his shoulder and a meanest look on his face. I made a U-turn and went back to the balcony.