Post by Admin on Aug 20, 2018 18:53:48 GMT
www.cricketcountry.com/articles/gus-logie-8-facts-about-the-wonder-on-the-field-508727
Gus Logie: 8 facts about the wonder on the fieldAugustine Lawrence 'Gus' Logie, born September 28, 1960, was probably the best fielder of his era — along with teammate Roger Harper.

By Abhishek Mukherjee | Updated : September 28, 2016 1:57 PM IST
Augustine Lawrence 'Gus' Logie, born September 28, 1960, was probably the best fielder of his era — along with teammate Roger Harper. He was not as gigantic as his other teammates: indeed, his pint-sized frame was in complete contrast to some of the West Indians. When at the crease, he surprised everyone by cutting and pulling with such ferocity that made one wonder where the power came from. He seldom made the big scores, finishing with 2,470 runs at 35.79 from 52 Tests and 2,809 runs at 28.95 from 158 ODIs. He had only 3 international hundreds.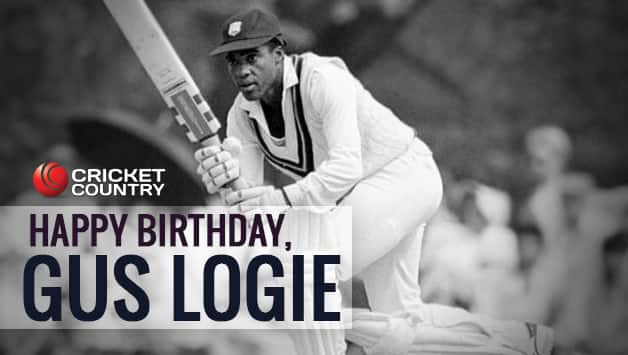 However, it was because of his spectacular fielding that he is renowned for: batsmen hesitated to cut or pull when Logie was at short-leg, for he never flinched, had amazing reflexes, and put yoga instructors to shame with his agility. He manned cover and point in ODIs, and could throw stumps down with direct hits from absurd angles with ridiculous ease. Abhishek Mukherjee lists 8 facts about the wonder-fielder.
1.
A debut in contrasts

Logie scored a pair on his First-Class debut — for South Trinidad against North Trinidad. His side lost by 10 wickets. Despite everything, Logie grabbed eyeballs with his spectacular fielding, and became a regular fixture in Texaco Cup clashes. He was still a teenager.
2.
Not out, Sir!
Logie made his ODI debut in December 1981. He did not get a chance to bat in his first four matches (so strong was the West Indies side). He finally got a chance to bat in March 1983, against India at Queen's Park Oval: there was enough time for him to score 6 not out!
It did not end there: Logie did not get to bat the following innings; this was followed by 1 not out. Then, finally, in January 1984, he was dismissed — bowled by Geoff Lawson for 9.
His subsequent outings read 28*, 9*, 19, 49*, 14*. After 12 matches Logie's career numbers read 7 innings, 5 not outs, 121 runs. It had been 26 months into his career.
3.
Six to tee off
West Indies needed to chase 172 in (what turned out to be) 26 overs in Logie's debut Test — against India at Sabina Park, 1982-83. They eventually reached there with 4 balls in hand thanks to a 36-ball 61 from Viv Richards.
Logie walked out as Richards fell, with still 16 to be scored. He hit the first ball he faced in the innings — off Mohinder Amarnath — for six. He was the 10th batsman to hit the first ball of an individual innings for six.
4.
Setting the desert on fire

Logie's fielding scaled new heights on November 28, 1986 against Pakistan in a Champions Trophy match at Sharjah. He was manning square-leg that day: if the catch of Saleem Yousuf was an easy one, the one to dismiss Mudassar Nazar — who pulled one uncharacteristically hard — was not.
Then, when Rameez Raja tapped one to square-leg and set off, Logie darted in and hit the wicket with only one stump to aim at: Javed Miandad, one of the fastest runners, fell short. Logie had 3 out of 3. He followed this by taking a skier to get Roger Harper and running Asif Mujtaba out.
With 3 catches and 2 run outs, Logie became the first to win a Man of the Match award for fielding.
5.
Lighting up Lord's
The Lord's Test was probably Logie's most dramatic onslaught at the highest level. West Indies were reduced to 54 for 5 by Graham Dilley, who also had Logie dropped at first slip by Derek Pringle.
Logie was on 10 at this stage. Then he cut loose, smashing 12 fours in his fifty. He became only the fourth batsman to do this (after Alan Knott, Gary Gilmour, and Roy Dias). He slowed down thereafter, and fell for 81, and added 95 not out in the second innings for good measure.
6.
The best of Logie
At Sabina Park, 1990-91, Craig McDermott and Merv Hughes got the ball to kick off the surface. Desmond Haynes had to leave after being hit (albeit on the boot off a yorker). West Indies became 69 for 4 (plus one retired hurt) when they had their second injury: when on 9, he tried to hook bouncer from McDermott that was too fast for him, and was hit on the face. Haynes walked out at this stage.
Logie walked out with seven stitches above his right eye to join Jeff Dujon at 166 for 8. Even Courtney Walsh had fallen by then, and only Patrick Patterson was to follow. He decided to counterattack, and when Patterson fell, Logie was left stranded on 77. West Indies had scored 264.
7.
The greatest honour
Along with other awards, Logie had a special one to his name — one that he will probably cherish more than the others: The Humming Bird Silver Medal for Service to Sport in Trinidad & Tobago.
8.
Coaching stints
Logie won the NCA Coaching Award in 1994 and NCA Senior Coaching Award in 1995. He started with zonal sides before coaching Canada — where they beat Bangladesh and troubled West Indies. He was appointed West Indies coach, but he quit. He coached Bermuda from 2005, helping them qualify for World Cup 2007 — the highest point in their cricket history. He went back to Canada, but was released subsequently.
(Abhishek Mukherjee is the Chief Editor of CricketCountry and CricLife. He tweets at @ovshake42.)